Unique Tools for Client Development, Case Evaluation, and Case Management

Trademark Tools

Nationwide Trademark Preliminary Injunction Report

Each Report is $295.

LegalMetric's Nationwide Preliminary Injunctions in Trademark Cases Report is an invaluable tool designed to help prepare your litigation strategy. Let our analysis show you which judges are most likely to grant a preliminary injunction. Get the essential information that can save your clients the two most valuable commodities in litigation: Time and Money.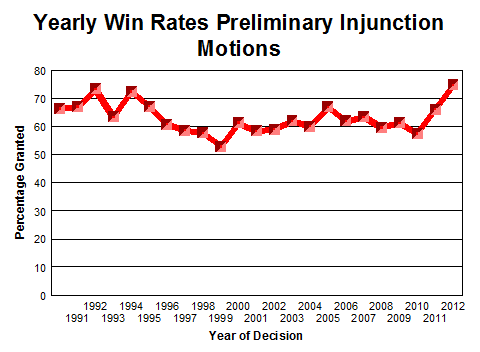 The report includes:

District and individual judge analysis of over 6100 Preliminary Injunction rulings.
Win rates for all districts having at least one decided Preliminary Injunction Motion in trademark cases.
Length of time from motion filing to decision for all decided Preliminary Injunction Motions in trademark cases.
Click here to view a typical district excerpt.
District Judge Reports
LegalMetric's District Judge Report lets you know if this is the right district for your federal litigation. Learn the historical odds of winning for your client in this court, for the district as a whole and by judge. Learn how litigants in this type of case have fared at summary judgment and at trial as well as other outcomes. Learn how experienced each judge in the district is in handling cases like yours. This report includes over 30 charts ideal for client presentations! Learn more about this product here.
Individual Judge Reports
LegalMetric's Individual Judge Report is an innovative litigation tool that provides winning information about your U.S. District Court Judge in your kind of case. The report answers these fundamental questions and more:
How likely is the judge to rule in your favor?
Which significant motions are granted or denied?
What is the time to termination for cases like yours?
Only LegalMetric's Individual Judge Report answers these questions in a concise easy-to-read cost effective document including 11 charts ideal for client presentations that gives you a strategic litigation advantage. To learn more about this product, click here.

To order any of the Trademark Tools click below.