Strategic Advantage

Without the right information, picking a venue for your client's litigation can be a gamble. Which district has the most favorable win rate for plaintiffs? Which district's decisions are reversed on appeal most often? How does one district fare on summary judgment compared to another? Knowing the answers to these questions can reduce your client's litigation risk and increase the likelihood of achieving your client's goals.

Filing suit in a district that is quick to decide cases, but happens to have a relatively low plaintiff win rate is not a good decision-for you or your client. Picking a venue that has fewer decisions reversed on appeal can improve your client's chances of ultimately prevailing-and help reduce your total litigation time.

In the past, attorneys used anecdotal information to decide if their litigation was in the best district to meet their client's goals. Now, you do not have to guess-or rely upon instinct. LegalMetric provides a detailed statistical evaluation of the decisions within a district for a particular area of the law. You select the area of the law as well as the districts and we will generate a report for each district providing you with detailed information about outcomes, judicial experience levels, trends, time to termination and more.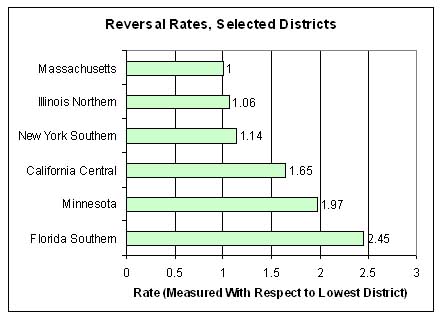 For example, LegalMetric recently compared the patent cases of six districts to determine which court is reversed on appeal most often. The study shows that a case filed in the Southern District of Florida is nearly two-and-one-half times more likely to be reversed (at least in part) than a case filed in Massachusetts. See chart.
Tired of guessing? LegalMetric offers two reports designed to provide you with a strategic advantage:
The District Judge Report provides overall outcomes and judge-to-judge comparisons of win rates, timing, judge experience levels and more for a particular area of the law within a federal court district. Learn more.

The Individual Judge Report provides more detailed information about a particular judge for a particular area of law. Learn more.