Expert Witness Guide

Legalmetric's Expert Witness Guide will help you identify experienced experts in recent patent cases. This listing of over 1000 people identified as experts in patent cases during the last two years includes the witness name and case name for each case where we could find an expert identified. Where an area of testimony is specified, that is included as well. Finding an expert witness is an essential component of any successful patent litigation. This unique report identifies many additional choices to help you make the right expert witness decision.

Important data included in this guide:

The names of people identified as experts in patent cases in the last two years, and the court and case name.
The areas of testimony (Validity, Infringement, and Damages) when specified.
A breakdown of experts by jurisdiction in which they were identified as an expert.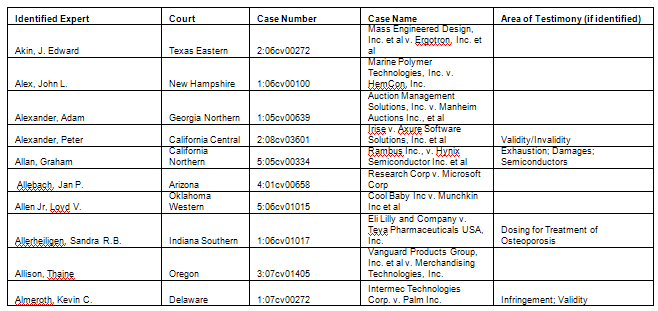 Note: This report includes only those experts we could find identified in the court dockets. If you know of experts during the last two years who are not listed in this report, please send us information on that expert for the next edition of the report.
The Expert Witness Guide is available for $195.00. To order your Report click below.